EVOLUTION HAUTE COUTURE
Art and Science in the Post-Biological Age
The National Centre for Contemporary Arts
Kaliningrad, Russia.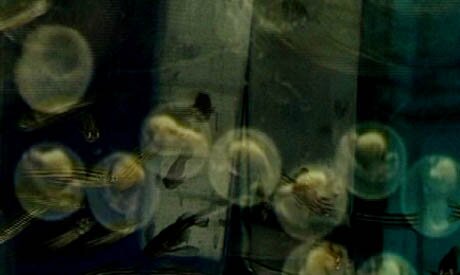 Video document as part of an international project
EVOLUTION HAUTE COUTURE: ART AND SCIENCE IN THE POST-BIOLOGICAL AGE
Curated by Dmitry Bulatov on themes associated with technologies of the XXI Century as a medium of implementation in the field of artificial life, robotics and bioengineering.
Special Art Project of the Third Moscow Biennial of Contemporary Art
LABORATORIA Art&Science Space (3, Obukha per., Moscow)
Organizers of the project: Kaliningrad Branch of the National Centre for Contemporary Arts, LABORATORIA Art&Science Space
In 2009 the Evolution Haute Couture project won the National Innovation Prize (Russia), awarded annually for achievements in contemporary visual arts.
Project curator: Dmitry Bulatov
Featuring: Paula Gaetano Adi (AR), James Auger & Jimmy Loizeau (GB), Brandon Ballengee (US), Laura Beloff (FI), BioKino Group: Tanya Visosevic and Guy Ben-Ary (AU), David Bowen (US), Adrian David Cheok (SG), Carlos Corpa & Ana García-Serrano (ES), Critical Art Ensemble (US), Joe Davis (US), Marta de Menezes (PT), Louis-Philippe Demers (CA), Erwin Driessens & Maria Verstappen (NL), Tagny Duff (CA), Arthur Elsenaar & Remko Scha (NL), Julie Freeman (GB), George Gessert (US), Ken Goldberg (US), Isa Gordon (US), Andy Gracie (GB), Paul Granjon (FR), Mateusz Herczka (SE), Floris Kaayk (NL), Verena Kaminiarz (CA), Leonel Moura (PT), Orlan (FR), Plancton Art Studio: Mauro Annunziato & Piero Pierucci (IT), Nicolas Reeves (CA), Julia Reodica (US), Ken Rinaldo (US), Marcel·lí Antúnez Roca (ES), Kathleen Rogers (GB), Philip Ross (US), SymbioticA Research Group (AU) & The Potter Lab (US), Stelarc (AU), The Tissue Culture & Art Project (TC&A): Oron Catts and Ionat Zurr (AU), Paul Thomas (AU), Bill Vorn, Emma Howes & Jonathan Villeneuve (CA), Natasha Vita-More (US), Adam Zaretsky (US)
EXHBITION BOOK AND ARTWORK IN PERMANENT MUSEUM COLLECTION
Evolution Haute Couture: Art and Science in the Post-Biological Age. Edited by Dmitry Bulatov. With a foreword by Dmitry Bulatov and essays by Roy Ascott, Dmitry Bulatov. Russian-English edition, and extensive glossary, color and black-and-white illustrations, 196 pages, catalogue + 2 DVD-ROM, KB NCCA, Kaliningrad, 2009. Web site: www.videodoc.ncca-kaliningrad.ru/
Supported by
The Ministry of Culture of the Russian Federation, The Ford Foundation (The Moscow Office, Russia), The Dynasty Foundation (Moscow), Karpov Institute of Physical Chemistry (Moscow)
Further exhibition in the framework of the IX MediaForum 2008 as part of the XXX Moscow International Film Festival (MIFF).